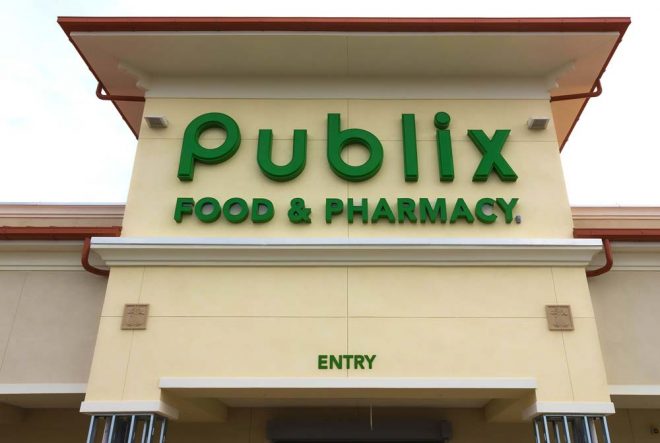 For those odd times when you are in desperate need of a stamp, your first impulse might not be to drive to your local grocery store. However, Publix grocery stores are here to change your mind.
Every Publix grocery store location offers stamps, cards, and office supplies for your basic postage needs. With convenient locations throughout the seven southeastern states (open extended hours seven days a week), Publix can be a great place to stop when you're looking for a stamp.
Does Publix Sell Postage Stamps?
Yes! All Publix grocery stores sell books of 20 First Class Forever stamps at the checkout registers. First Class Forever stamps provide enough postage for a 1-ounce standard letter. Because they are Forever Stamps, they won't decrease in value as postage prices rise (for more information, see our Guide on First Class Postage).
Buying Stamps at Publix
Publix Super Markets, Inc., commonly known as Publix, is an American supermarket chain. Publix currently has 1,244 locations across the seven southeastern United States, including Florida, Georgia, Alabama, Tennessee, South Carolina, North Carolina, and Virginia. Publix grocery stores are typically open from 7:00am to 10:00pm, though store hours can vary based on location.
Stamps can typically be purchased at the register during checkout. While most stores keep the stamps at the register, some of the larger Publix locations may sell stamps from the Customer Service Desk instead.
Surprisingly, one of the most significant benefits of purchasing stamps at Publix is access to their produce section (despite just how awkward that sounds). Whenever mailing a letter or package, the cost of postage is dependent on the weight of the parcel. Therefore, if you are mailing a heavy envelope, you may need to use more than one stamp. At Publix, you can use the scales in the produce section to weigh your envelope, and then checkout personnel can help you determine how many stamps are required.
What is the Cost of Stamps at Publix?
Publix sells postage stamps for the same price offered at United States Post Offices. Because Publix sells its stamps in booklets, you can actually save money by purchasing a book at Publix instead of a single stamp elsewhere.
The price for a book of 20 First-Class Forever stamps is currently $11.60 (plus tax); however, Publix tends to offer its booklets at a discounted rate. At $0.58 per stamp, buying the discounted book of stamps at Publix (compared to a single stamp) will offer a savings of a few cents per stamp. Therefore, if you use stamps semi-regularly, purchasing the book can be a great investment.
Stamps at Publix.com Online
Publix Online (publix.com) does not currently offer United States postage stamps for purchase.
Finding a Publix Location
Publix grocery stores are located in the seven southeastern United States. You can find the nearest Publix location with the convenient Publix Store Locator.
Once you are on the store locator, enter your zip code, city, or store number and press search. The locator will provide you with a map and list of stores near you, along with the store addresses, phone numbers, and hours of operation. You can also filter the results based on the services provided at various locations.
No Publix near you? No worries! Check out our Where to Buy Stamps Guide for more convenient locations.