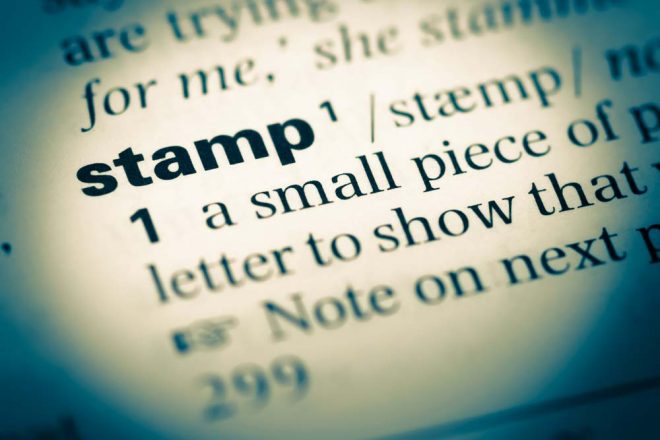 If you're an experienced collector, you might already be familiar with most of these terms. However, if you are new to the scene, here's a list of some of the most popular terms used within the stamp collecting industry.  These will also help describe some of the stamps you are trying to buy, trade, or sell. Hopefully, this short glossary (highlighting some of the most important features) will help you lay the foundation for your long-term collection goals.
Mixture – may be used to describe a lot that is worldwide, of a single nation or a particular region. These typically have many duplicates of regular issue stamps and worldwide stamps. If you receive a stamp still attached to the paper from the envelope, it is called "On-paper mixture." These stamps have not yet been soaked to remove the backing. This is a reasonably inexpensive way to add stamps to your collection.
Mission Mixture – has an overabundance of regular issue stamp duplicates.  Traditionally, these stamps were sold in bulk by churches or charities to raise money, but today the term is applied regardless of the source supplying them.
Off-paper Mixtures – used to reference stamps when the soaking procedure has already been done to remove the stamps from the letters or packages.
Bank Mixtures – Today, much of the mail from banks, businesses, and organizations are metered. High denomination stamps used to be found on bank and business correspondence. The "Bank Mixtures" were stamps that had been clipped from these registered and certified pieces of mail… and they are becoming rarer and rarer.
Unsorted Mixture – The biggest benefit of an "Unsorted mixture" is that the special commemorative and higher value stamps have not been picked yet.  The downside is you may end up with a few damaged stamps.
Kiloware – stamps that are sold by weight.
Box Lot – a box that may contain any kind of stamp. With this type of lot, you may end up with hundreds or thousands of stamps to sort through or process.
Mint – a stamp that has never been used and is in the same condition as when it was purchased. The gum is still in place and has not been hinged.
Used – a stamp that has been attached to a letter or parcel and traveled through the postal system.
Cancel-to-order – When the postal administrations cancel stamps and sell them at a discounted price to dealers.
Remainders – Collections that have already had the best stamps picked from them.
Approval – If you wish to receive worldwide or single nation stamps, have an "

Approval

," sent to you by a dealer. Upon request, you will receive a package of stamps where you can pick the ones you want and send the remaining stamps back with your payment.

Bourse – a venue for dealers to sell their stamps, stamped envelopes, etc.
Collection – a stamp grouping formed by a collector.  

They can be topical or deal with a specific theme or topic. A collection may contain mint, used, or cancel-to-order stamps.

Extension – a hold on the transfer of ownership of the stamps in question.