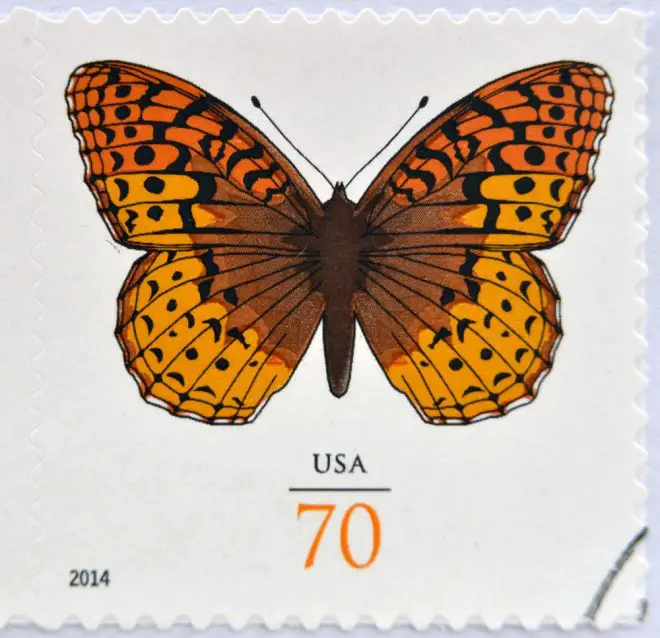 Have you ever stood frozen in front of your mailbox, greeting card in hand, wondering if you should run back inside and put another stamp on your envelope to ensure your card isn't returned? You're not alone! With the high number of large, oddly-shaped, and often heavy greeting cards currently in circulation, the amount of postage needed to deliver a card is rising. However, the United States Postal Service (USPS) and the Greeting Card Association (GCA) have the solution to your problem: the Butterfly Stamp.
What is a Butterfly Stamp?
The Butterfly Stamp was introduced by USPS, in conjunction with the GCA, in May 2010 as a new series of stamps designed to make it easy for greeting card customers to know how much postage to put on their envelopes. The Butterfly Stamp series, identified by its large butterfly design, was created for cards that have an irregular shape and require additional postage. Greeting cards requiring the Butterfly Stamp are denoted by a printed butterfly silhouette on their envelopes.
The postage on the Butterfly Stamp covers both the 1-ounce First-Class Mail letter postage (the equivalent of a standard Forever Stamp) and the non-machinable surcharge.
What is a Non-Machinable Surcharge?
A Non-machinable surcharge is an additional postage charge by USPS on First-Class Mail letters that do not fit through the automated postal service processing system and have to, therefore, be hand-canceled by USPS staff. The non-machinable surcharge in the United States is currently $0.15.
When Should I Use a Butterfly Stamp?
The GCA has worked with greeting card manufacturers to make the use of the Butterfly Stamp as simple as possible. Participating greeting card manufacturers have printed a silhouette image of a butterfly on their envelopes, with text that reads, "Butterfly Stamp or Equivalent Postage Required."
A Butterfly Stamp should be used in place of a standard Forever Stamp on First-Class Mail when an envelope:
Is square or doesn't meet the aspect ratio of a standard envelope (length divided by height not within 1.3 to 2.5)
Is rigid and doesn't bend easily
Contains items that cause the envelope to be uneven, including clasps, ribbons, or buttons
Has an address that is parallel to the shorter dimension of the letter
If you don't have a Butterfly Stamp on hand, multiple stamps of equivalent postage are accepted. However, using the Butterfly Stamp ensures that you are not overpaying on postage.
How much is a Butterfly Stamp?
A butterfly stamp currently costs $0.70. Similar to a Forever Stamp, Butterfly Stamps will always be honored at the postage rate printed on them. To find a place to purchase Butterfly Stamps near you, check out our other article on Where to Buy Stamps.
What is the Current Butterfly Stamp?
On January 27, 2019, USPS issued the seventh series of the Butterfly Stamp. The newest Butterfly Stamp features the California Dogface butterfly (Zerene Eurydice). The stamp, which depicts a stylized, yet minimal picture of a male California Dogface, was digitally created by nationally renowned artist Tom Engeman and designed by Art Director Derry Noyes.
The California Dogface, the state insect of California, is named after the distinctive yellow "dog's head" marks on the wings of the males of the species, which resemble the undeniable profile of a poodle. This is not the first time the California Dogface has appeared on a stamp; in 1977, it was 1 of 4 butterflies that were featured on a sheet of 13 cent stamps, on which it was labeled Colias Eurydice.
Prior installations of the Butterfly Stamp, all illustrated by artist Tom Engeman, have included the 2010 Monarch Butterfly stamp ($0.64), the 2012 Baltimore Checkerspot Butterfly ($0.65), the 2013 Spicebush Swallowtail Butterfly ($0.66), the 2014 Great Spangled Fritillary Butterfly ($0.70), the 2015 Eastern Tiger Swallowtail Butterfly ($0.71), and the 2016 Eastern Tailed-Blue Butterfly ($0.68).
For additional assistance picking the stamp that's right for you, see About Postage Stamps.