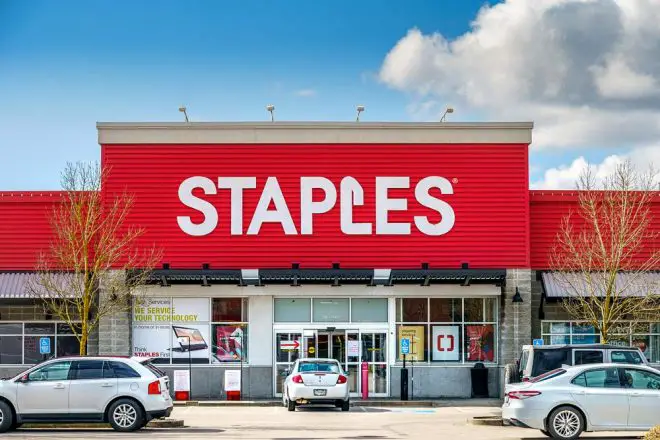 If you search "does Staples sell stamps?" on the internet, most sites will tell you that they do. However, while this used to be true, Staples locations in the United States actually stopped supplying US postage stamps back in 2017.
Does Staples Sell Postage Stamps?
No, Staples stores no longer sell stamps. The United States Postal Service (USPS) ended its contract with Staples in 2017 and removed stamps from all United States locations.
Buying Packing Products at Staples
Staples has made a name for itself as one of the leading providers of office supplies and paper products in the United States and internationally. Staples has over 1,000 locations across the United States and hundreds of store and warehouse locations across 25 additional countries. Staples stores are typically open from 8:00 am to 9:00 pm Monday-Friday, and 9:00 am to 9:00 pm Saturday-Sunday. Some smaller locations have limited weekend hours, so make sure you check your local Staples hours before you shop.
While stamps cannot currently be purchased at Staples locations, Staples is still a great store for anything you need to prepare your letter or package for shipment.
Additional Services Offered at Staples
Though Staples does not sell stamps, it does offer several services to make packaging and shipping easier:
Direct Mail Services for Businesses
Direct Mail Services at Staples was designed to help businesses create large mail campaigns with minimal effort. If you are looking to send out advertisements, coupons, or other bulk mail items, this may be the service for you.
When you use Direct Mail Services, you can:
Target Customers: Upload a list of customers or use the Direct Mail Services "Point and Click" mapping tool to search for customers by zip code or demographic.
Design your Mailer: Upload your own design or work with the Staples design team to create a mailer from online templates.
Let Staples Send Your Order: Once you have created your customer list and mailer design, Staples Direct Mail Services will print your mailers, package them, and send them to your customers for you.
You can learn more at Staples Direct Mail Services.
Staples' Same-Day Delivery
Do you already have your stamps but are missing key packing materials, such as envelopes, boxes, or tape? Staples can help. With Staples' Same-Day Delivery, you can order items from your local Staples location and have them delivered to your doorstep later that day.
Once you create an account at Staples' Same-Day Delivery and enter your location, the Same-Day Delivery website will provide you with a comprehensive list of everything available for delivery from the store. When you are pressed for time and trying to get that last-minute present in the mail, this is an extremely convenient way to save yourself some time and effort.
UPS Shipping Solutions with Staples
Ready to ship your package? Select Staples locations will ship your package for you using UPS shipping services. Bring your prepared package to Staples, and the Shipping Center will print your label and send your package using the UPS shipping method of your choice. While many UPS locations are only open Monday-Friday, Staples is open seven days per week, making this a great way to take care of your package on the weekend while running errands.
For more information on UPS Shipping Solutions with Staples, see Staples Connect.
For more information about whether UPS is the right shipment method for your package, see UPS vs. USPS.
Stamps at Staples.com Online
Staples online (staples.com) does not currently offer United States postage stamps for purchase.
Finding a Staples Location
Next time you need packing materials or want to use one of the convenient Staples services, consider heading to a Staples near you! You can find the nearest Staples locations using the convenient Staples Store Locator.
Simply enter your zip code or city and state and press the search icon. The locator will provide you with a convenient map and a list of the stores near you. Click on any of the store names to access location information, contact information, hours of operations, and store-specific deals.
No Staples near you? No worries! Check out our Where to Buy Stamps Guide for more convenient locations.
FAQs
Does Staples sell stamps?
No, Staples stores no longer sell stamps. The United States Postal Service (USPS) ended its contract with Staples in 2017 and removed stamps from all United States locations.
Does Staples sell single stamps?
No, Staples stores do not sell single stamps or booklets of stamps.
Can you weigh your package at Staples?
Yes, Staples offers weighing, scanning, and copying services.
Can you buy stamps on Staples.com?
No, Staples.com does not currently sell stamps.