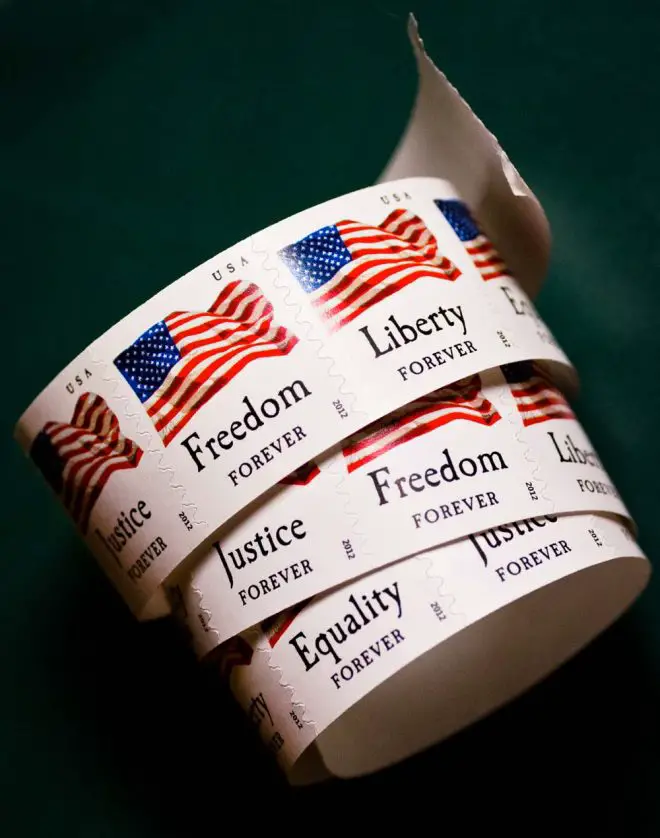 Buying stamps can feel overwhelming at times. While we all know that envelopes and packages require postage, knowing which stamps to buy (and how many to use) can be confusing, especially when postage prices change. Luckily, USPS appreciates this. So that's why they created the Forever Stamp. In this post, we will share everything you need to know about Forever Stamps.
What is a Forever Stamp?
The Forever Stamp, or Forever Postage Stamp, was introduced by the United States Postal Service (USPS) in 2007 to simplify postage and reduce confusion when postage prices change. The Forever Stamp is known as a "non-denominational" stamp, meaning that it does not have a specific price. Instead, the First-Class Forever Stamp will always cover the cost of a one-ounce letter.
So what does this mean?
Say you purchase First-Class Forever Stamps for $0.58 per stamp, and then the postage price for a one-ounce letter is raised to $0.65. Your Forever Stamp will still cover the postage for the letter, even though you purchased it at a lower price. So, by buying Forever Stamps in bulk, not only are you saving yourself money in the future, but you are also ensuring that you are never low on postage.
Forever Stamps were so popular with the public that by 2011, almost all First-Class stamps sold were Forever Stamps. Since then, Forever Stamps have been created for many other denominations.
What is the Current Forever Stamp Value? 
A First-Class Forever Stamp technically has the same value as a standard First-Class stamp- the postage required to send a one-ounce letter within the United States. The current value of the Forever Stamp is $0.58.
Forever Stamps can be purchased at post offices, as well as select banks, grocery stores, pharmacies, and gasoline stations. The cost of First-Class Forever Stamps is equivalent to the current postage of the stamp. As a result, the current price of a Forever Stamp is $0.58. To find a place to purchase Forever Stamps near you, see Where to Buy Stamps.
Types of Forever Stamps
Forever Stamps aren't just for 1-ounce mail anymore. You can now buy "Forever Stamp" versions of any First-Class stamps. Some of the most popular Forever Stamps include:
Global Forever Stamps: The Global Forever Stamp covers 1-ounce letters sent internationally (postage for international letters is currently $1.30). The Global Forever Stamps can be identified by their round borders and will always have "Global" and "Forever" printed on them.
Additional Ounce Forever Stamps: If you are shipping an envelope that weighs more than one ounce, each extra ounce will cost approximately $0.20 in postage. Rather than using another Forever Stamp (and overpaying on postage), you can use a First-Class Additional Ounce Forever Stamp to cover the cost of each additional ounce.
Postcard Forever Stamps: Postcard Forever Stamps cover the cost to send a postcard within the United States. The current postage cost for a postcard is $0.40.
Forever Stamp Designs
Like all stamps, USPS releases dozens of new designs for their Forever Stamps every year. The 2022 designs for the Forever Stamps can be found here.
Current 2022 designs include a stamp for the Year of the Tiger, as well as stamps honoring famous American individuals and events (such as Peter Seeger, Katharine Graham, the passage of Title IX, the establishment of the National Marine Sanctuary System, and more).
According to USPS Stamp Service Director William Gicker, "the new 2022 stamps are miniature works of art, designed to be educational and appeal to collectors and pen pals around the world."
For additional assistance picking the stamp that's right for you, check out our other post, About Postage Stamps.