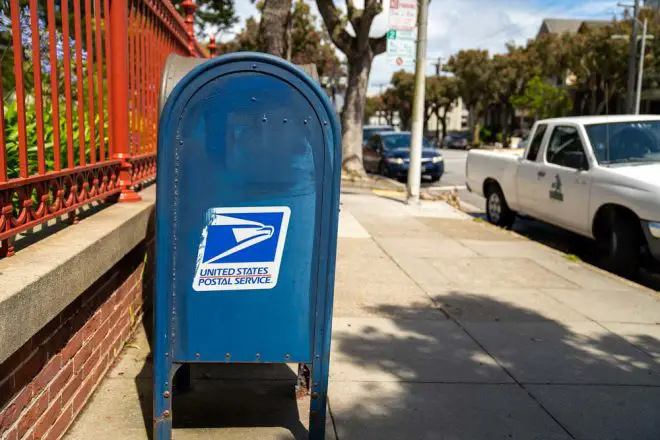 With over 153,000 locations nationwide, United States Postal Service (USPS) Collection Boxes can be an extremely convenient way to ship letters and packages. However, before you ship, it's important to understand the USPS Collection Box rules and regulations to ensure that your package gets to its destination successfully. 
What is a USPS Collection Box?
USPS Collection Boxes are mail receptacles where customers can deposit mail. USPS Collection Boxes come in dozens of different varieties, from freestanding units to post-mounted units, to chutes and wall drops. The most common USPS Collection Box is the standard USPS Blue Box, a freestanding blue metal box, roughly 3 feet in height, with a distinct rounded top and pivoting mail drawer.
USPS Collection Box Pick-up Times
USPS Collection Box pick-up times vary from box to box. Pick-up times are based on several factors, including the number of boxes in the area, the box's location, mailing patterns, and the volume of mail generated.
The pick-up times for a specific USPS Collection Box will be posted on the label of the Collection Box. Many collection box labels will also have a QR code, which, if scanned with your mobile device, will give additional information regarding holiday hours, contact information, and additional FAQs.
Finding a USPS Collection Box Near Me 
USPS collection boxes can be found throughout the country at Post Offices, in buildings, on street corners, and in parking lots. To find a collection box near you, check out the following links:
What Can Be Deposited in a Collection Box?
Standard USPS Blue Collection Boxes have a 14-inch mail slot, making them ideal for letters and small packages. The USPS generally accepts most packages that are 10 ounces (0.625 pounds) or less, and ½-inch in thickness or less, assuming they have proper postage.
USPS Collection Boxes RESTRICT the following items:
Stamped domestic mail (including Priority Mail Express) weighing over 10 ounces or more than ½–inch in thickness.

Domestic mail weighing over 10 ounces and more than ½-inch in thickness can be sent via USPS Collection Box as long as they have a shipping label with proper postage.

Any international mail without a customs declaration that has been completed and submitted online.
Any international mail requiring a customs declaration that bears postage stamps instead of a shipping label.
International stamped or metered mail weighing over 10 ounces or more than ½-inch in thickness.
Priority Mail Express International items that do not have PS Form 2976-B.
Army Post Office (APO), Fleet Post Office (FPO), and Diplomatic Post Office (DPO) mail weighing over 10 ounces or more than ½-inch in thickness and bearing only postage stamps as postage.
If unacceptable packages are dropped at a USPS Collection Box, the package will be returned to the sender.
For more information about shipping, see our other Postage Information Pages or Contact Us.