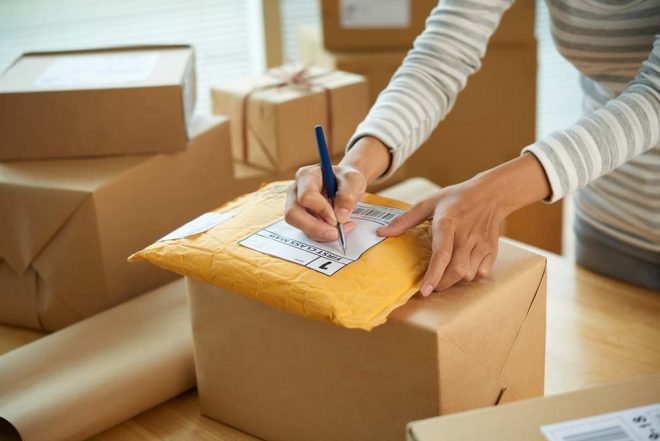 First-class postage is the cheapest and easiest way to mail small items up to 13 ounces. This article serves as a quick guide discussing the cost of different types of first-class postage and how to purchase them. For a more in-depth look at how first-class postage could help with your personal or business postage needs, check out our other article "What is First-Class Mail". 
What is the First-Class Postage Rate?
There are many different types of first-class postage. The cost of postage depends on the weight, size, and type of item that you are sending. The first thing that you need to consider is whether you are purchasing the postage for business or personal use. The two main types of first-class postage are:
Retail First-Class Postage –

This is for any member of the general public who wishes to send a package under 13 ounces. Anyone can access this service.

Commercial First-Class Postage –

This is for businesses that send a large amount of first-class mail. To qualify, your business must ship at least 500 items of first-class mail per year.
Once you have decided which type of first-class mail that you will be using, it will be much easier to determine the price of the postage for your item(s).
Retail First-Class Postage Prices
As previously mentioned, the cost of postage is determined by the weight, size, destination, and type of mail that you are sending. If you would like to use a calculator, then USPS has a handy tool to help you do this. You will need to input the desired destination for your mail, the zip code that you are sending it from, the date and time that you are sending it, and the type of mail that you are sending. Here are some important guidelines below.
Parcels – The price for sending parcels through USPS first-class mail starts at $4.00 (current per the January 24, 2021 price increase). A full chart is available here. The $4.00 will cover the first four ounces of a parcel being sent. After the first four ounces, you will need to pay extra for additional ounces.

 As with most first-class postage, the maximum weight is 13 ounces. This means that the maximum cost for sending a first-class package is $6.50; 13 ounces to the furthest destination (zone 9). Parcels sent through this service cannot exceed 108 inches.

Letter – 

First-class letters start at $0.58 (current per the August 29, 2021 price increase). This is for the first ounce. After this, each additional ounce will cost $0.20. Unlike the first-class parcels, first-class letters have a maximum weight of 3.5 ounces, meaning that the maximum that you will pay to send a letter through first-class postage is $1.18.

Postcards –

Postcards through USPS come in two different forms. You can either purchase a non-stamped postcard for $0.35 or pay an additional four cents for a stamped postcard.

Large Envelope –

These are defined as envelopes between 6.75×11.5 inches and 12×15 inches. The first ounce will cost you $1.16, with each additional ounce costing $0.20. 
Commercial First-Class Postage Prices
The cost of sending first-class items through the USPS commercial service is difficult to determine without signing up for it. However, it is known that commercial postage comes at a significant discount (a nice perk for sending in bulk). The size and weight limits are the same for commercial postage as they are for retail postage. It is, however, possible to discuss exceptions to this with your local USPS agent when you sign up. Later in this article, we will further discuss how you can sign up for this service, and what requirements are necessary to qualify.
Stickers
There are many other excellent services that USPS provides that can help make your first-class shipping process more manageable. Most of these come in the form of stickers.
Tracking Stickers –

If you are sending a parcel through USPS first-class mail, then you are in luck! Tracking parcels on first-class mail is provided free of charge for these. If you are sending any other form of first-class mail and you still want to be able to track your item, then do not fret. USPS also offers tracking stickers that you can purchase separately. 

Fragile Stickers –

If you are sending something fragile and are concerned that it may be damaged in the mail, then USPS also has fragile stickers available for purchase. Bear in mind that putting these stickers on your postage is NOT a guarantee that they will not get damaged. It merely aims to alert workers to the nature of the package. It is still crucial that you safely package anything breakable.

Deliver by Stickers –

If you have a piece of mail that needs to be delivered by a specific time, then you can always purchase "deliver by" stickers. Again, this is not a guarantee that your mail will be delivered by the time that is stated on the sticker, but it is a good indication that your mail is important and needs to be delivered promptly. When using these stickers, you will need to think about how long it will realistically take the postal service to deliver your item. There is no point sticking a "deliver by 12:30" sticker on a package that you are sending at 11:00, as it cannot be realistically sorted and delivered within that time.
How to Buy First-Class Postage
If you want to purchase first-class postage at a retail rate, then there are two different ways you can do this. The first way is to buy in bulk on the USPS website. If you only want one or two of a particular item, then it is suggested that you visit your local USPS to purchase them individually. 
If you run a business and would like to send mail through the commercial first-class mail service, then you will need to contact your local USPS to see if you qualify and set up an account. From here, you will be able to buy in bulk for less, and print your labels from home so that you don't have to go to a USPS and have your mail measured every time.
How to Qualify for Commercial First-Class Postage
To qualify for a commercial account with USPS, you must send a minimum amount of mail each year. The minimum to be eligible for first-class postage is 500 pieces of first-class mail per year. 
Before you can get started setting up your account, you will need to apply for a mailing permit. This permits you to send mail via first-class postage at a commercial rate. There is no fee to apply for a mailing permit. However, once you are using the commercial service, there will be a yearly fee for each type of mail that you use (ie first-class, priority, etc.). 
Next, you will need to contact your local USPS. They will be able to send an agent to your place of business to assess the different types of mail that you send, their size and weight, and how often you send them. Once they have this information, they will be able to provide you with a quote for your commercial prices. If you accept this, then they will get you all set up. 
Prices for first-class mail, or indeed any mail, can be extremely tricky to figure out. If you're having trouble figuring it out for yourself, then you can use the USPS calculator (as linked above), or head on down to your local (and typically friendly) post office for a hand.