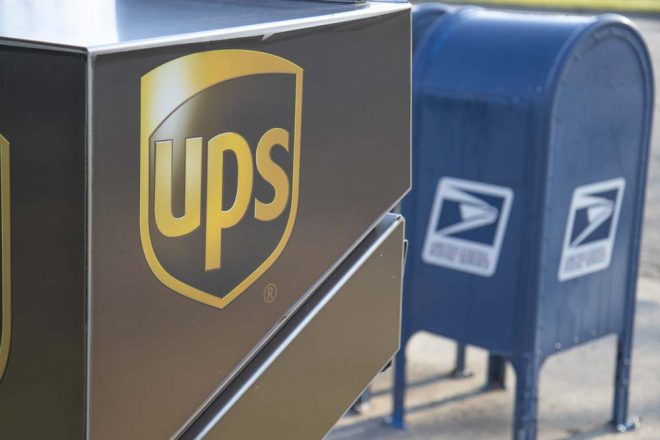 When you have a business that requires you to ship products around the country (or worldwide), shipping can quickly become your biggest expense. Therefore, keeping your shipping costs low is an essential business practice, both for your bottom line and your business's competitiveness.
Yet, with all the shipping options available, it is often difficult to determine which option works best for your business. This article leverages extensive research and first-hand testimonials to narrow down the options and help you choose between USPS and UPS for your shipping needs.
UPS vs. USPS
First and foremost, UPS and UPS are not the same company. At an initial glance, it can be hard to tell the difference between the United Parcel Service (UPS) and the United States Postal Service (USPS).
Besides the annoyingly similar acronyms, both courier services offer affordable, reliable domestic and international shipping options. However, upon closer inspection, UPS and USPS both have their own unique advantages and disadvantages for consumers.
When choosing between UPS and USPS, it is important to choose the courier that is right for you based on your shipping requirements. In general, USPS is preferable for shipping small parcels as cheaply and efficiently as possible, while UPS is best when shipping large packages (or on a tight timeframe). To better understand which option is right for you, the benefits of each courier are detailed below.
USPS Breakdown
| Benefits of USPS | Downsides of USPS |
| --- | --- |
| Most affordable for small packages | Poor customer service |
| Delivers to mailboxes and P.O. Boxes | Limited parcel tracking options |
| "Hold for Pickup" options at Post Offices | |
| Free weekend delivery | |
UPS Breakdown
| Benefits of UPS | Downsides of UPS |
| --- | --- |
| Guaranteed express shipping | Expensive, especially for small parcels |
| Affordable for heavy and oddly-shaped packages | No free package pick-up |
| Great parcel tracking services | Additional costs for Saturday delivery |
| Same-day and next-day deliveries | |
Cost
The difference between the cost to ship with USPS and UPS is based on your package's size and weight and the speed of your delivery. USPS tends to be better for small parcels, while UPS is better for overweight or bulky parcels, as well as same-day or next-day deliveries.
USPS
Most people agree that for packages weighing less than 13 pounds, USPS shipping costs are unmatched. According to Calloway Cook, President of Illuminate Labs, "the prices and performance of USPS shipping vastly outperforms UPS. There are some niche use-cases for UPS shipping, like large or oddly-shaped parcels, but for any standard domestic shipping you're better off with USPS."
Several cost-saving options further enhance the base prices of USPS:
USPS Flat Rate boxes (through their Priority Mail service) provide a standard price regardless of package weight. This allows smaller, heavier items to be shipped for a fraction of the cost.
USPS Post offices provide free packing material and tape for shipments.
If you are a business, USPS Commercial Plus Pricing (CPP) provides you with deeply discounted postage. Your CPP discount is calculated by your quarterly or annual shipping volume. Therefore, the more you ship with USPS, the more you save.
If you are a new business or an expanding business, Rex Freilberger, CEO of Gadget Review, agrees that USPS is the way to go: "Cost is the biggest factor for newcomers, I feel, if you're footing the bill on domestic shipping. In this case, it's almost always better to do USPS starting out."
UPS
UPS is typically the more affordable shipping option if your package is heavy or qualifies as a bulky or oversized package.
If you want to ship with UPS, there are also options to make their prices more affordable:
If you create a business account, you can negotiate rates with your Account Manager. Unlike USPS, there are not set discounts at UPS, so you have the potential to negotiate larger discounts if you have a good relationship with your Account Manager.
UPS offers volume discounts if you ship regularly.
Julie Janecka, owner of My Jewelry Resources, summed up the comparison nicely: "Bottom line is that the higher the value and the faster it should go, the more I tend to UPS, but smaller and less valuable items work great with USPS."
Speed
The speed of your delivery will ultimately depend on the shipping method you choose at UPS and USPS. However, the quicker the shipping method, the more expensive your shipment will be.
USPS
USPS's standard delivery rates tend to be slightly quicker than UPS, especially for smaller parcels. However, USPS has a limit on how quickly they can get an item to its destination.
UPS
If your package is extremely time-sensitive and requires a same-day or next-day delivery, UPS is the courier to choose.
For Jeff Neal of the Critter Depot, the quick delivery times at UPS are essential for live animal shipments: "UPS is great for time-sensitive deliveries, as long as the live crickets don't need to be held for pickup."
Tracking
USPS
One of the largest downsides of USPS is its tracking services. Though USPS has improved its tracking services in the last few years, their tracking is still not on par with UPS.
UPS
UPS is known for its exceptional tracking services. If you want minute-to-minute updates on the status of your packages, UPS is the courier for you. Unlike USPS, they also offer accurate tracking for all international packages, making them ideal for companies with frequent international shipments.
Pick-Up and Delivery
USPS
USPS offers free pickups, as well as free weekend deliveries. To learn more about weekend deliveries with USPS, see Does USPS Deliver on Saturday/Sunday.
Unlike other courier services, USPS is the only courier that guarantees delivery to any United States address. This is especially beneficial if you frequently ship to rural areas like Julie with My Jewelry Resource: "Rural areas are where USPS really shines. They are more than willing to cover hard to find areas."
USPS also makes packages available for pickup at Post Offices around the United States. If you ship valuable or temperature-sensitive packages, this can be a great option for your customers. For Jeff of Critter Depot, "USPS is great during the extreme winter and summer months, because packages can be held at the post office for pick up. This helps ensure the crickets survive the transit."
UPS
One area UPS shines compared to USPS is in their store hours. While USPS is known for its strict 9:00-5:00 schedule, UPS is much more likely to be open earlier and later, allowing for a longer dropoff window. According to Calloway of Illuminate Labs, "We use USPS as our shipping default through our 3PL partner, but occasionally I'll have to manually ship out an order that slips through the cracks, and I'll use UPS because they're open later."
Reliability
USPS
USPS has a reputation for "rain or shine, sleet or snow" deliveries. They are known for their ability to deliver packages even in inclement weather conditions. According to Dan Bailey, President of WikiLawn, they "strongly prefer USPS. They're more reliable and deliver to rural routes… I feel consistency is the biggest factor when choosing a shipping service. You want customers to be able to rely on packages getting there at a certain time."
UPS
UPS has a reputation for great customer service and for handling packages properly. If you have a fragile or expensive package, it's not just about getting to the location; it's about getting to the location in pristine condition. Rex with Gadget Review ships primarily ships tech and gadgets. As a result, he says, "I personally prefer USPS, but UPS has a better reputation (with us) for handling packages properly… I really need a service that's going to reliably get the package there on time and in one piece.
About USPS
The United States Postal Service (USPS) was founded in 1792 as a federal agency. Unlike other couriers, USPS is a government agency charged with delivering letters and packages both domestically and internationally. It is completely funded by its delivery services and postage stamp sales.
USPS is also responsible for Post Offices. You can learn more about Post Offices in our other article, History of the US Post Office.
What does USPS Stand for?
The full form of USPS is United States Postal Service. USPS is also known as the Post Office, U.S. Mail, and the Postal Service.
When USPS was founded in 1792, it was classed the Post Office Department. It wasn't until the Postal Reorganization Act that the organization was made an independent agency and renamed USPS.
About UPS
United Parcel Service, Inc. (UPS) is a publically traded company that was founded in 1907. UPS is one of the largest package delivery services in the world and one of the largest rivals of USPS in the United States.
What does UPS Stand for?
UPS stands for the United Parcel Service.
When UPS was founded in Seattle, Washington, it was called the American Messenger Company. However, after the company expanded to other states in 1917, it changed its name to the United Postal Service.