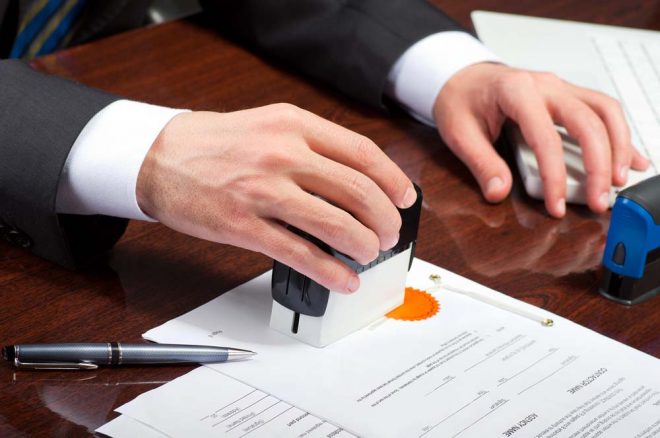 When you are on a deadline to get a legal document signed and delivered, going through the extra step of having your signature witnessed by a notary can be unbearable. After all, most of us don't have a Notary Public on speed dial. However, notarization is an integral part of the legal process. It helps prevent fraud and misunderstandings, which would cause much bigger headaches down the road.
That doesn't make finding a notary any easier. Luckily, the United States Postal Service (USPS) is doing their part to make the process less stressful.
Notarization at USPS
The USPS is a federal institution that controls United States Post Offices (for more information, see the History of the US Post Office). Because the USPS is a federal institution and notary licenses are issued by the states, USPS is not able to offer notary services.
However, many US Post Office locations have contracted with private businesses within the same building to perform notarization services. Therefore, while you would go to the US Post Office to have your documents notarized, the Notary Public would not be employed by the US Post Office.
Not all US Post Office locations offer this service, so make sure you call ahead before heading to your local post office. To find the US Post Office near you, visit the USPS Find Locations website.
What is Notarization?
Certain legal documents, such as wills, trusts, deeds, contracts, and affidavits, need to be notarized to have a legal effect. Notarization is the process of having a legal document signed, sealed, and witnessed by a licensed notary public. According to the National Notary Association, "notarization is the official fraud-deterrent process that assures the parties of a transaction that a document is authentic and can be trusted. Above all, notarization is the assurance by a duly appointed and impartial Notary Public that a document is authentic, that its signature is genuine, and that its signer acted without duress or intimidation, and intended the terms of the document to be in full force and effect. "
More simply, notarization is a three-part process, performed by a Notary Public, which includes:
Vetting: The Notary Public reviews the document to be notarized to ensure that the document is genuine.
Certifying: The Notary Public confirms that the person signing the document is the same as the person named on the document. The Notary Public additionally confirms that the signee understands the document and is signing of their own free will.
Record-Keeping: All transactions witnessed by a Notary Public are entered into an official log, complete with the names and information of the people who signed the notarized document.
Once the Notary Public has verified these three steps, the documents will be embossed with the Notary Public's seal and signature and returned to the appropriate parties.
What You Need for Your Notary Visit
If the US Post Office location near you has a Notary Public in their building, you will need to bring the following documentation for your notarization:
Valid, Government-issued Photo ID. This document will be used by the Notary Public to verify your identity before you sign your documents.
Document to be Notarized. Make sure that the document you bring is the unsigned original version.
Fee for Notarization. The fee for notarization is state-specific. However, most Notary Publics charge $10-$30 depending on the state.
Witness (when applicable). Some legal documents will require a witness to be present at the signing. Though some US Post Office locations will have staff available to act as witnesses, it is not guaranteed. Therefore, bringing your own witness is the safest option.
Additional Notary Public Locations
If the US Post Office near you does not offer notary services, additional locations to consider include:
Mobile Notary Services: Mobile notary services are by far the most convenient, as they will come to your home or office to notarize your document. However, they are also typically the most expensive option.
Banks: Most banks have a Notary Public on hand at all times. Some banks will notarize documents free of charge if you have an account at their branch.
Courthouses: Courthouses have notaries available during regular business hours. Typically, the county clerk's office fulfills notarization requests.
Shipping and Packing Stores: Many packing, shipping, and parcel stores, such as UPS, will have a notary on staff. It is typically best to call ahead to confirm that a Notary Public is available.
Real Estate/Law Offices: Many real estate and law offices have Notary Publics in-house. If they do not, they will typically be able to tell you where the nearest notary location is.
Though USPS cannot offer notary services themselves, they have striven to find ways to continue to provide this essential service. For more information about the services USPS provides, see our USPS Guides.