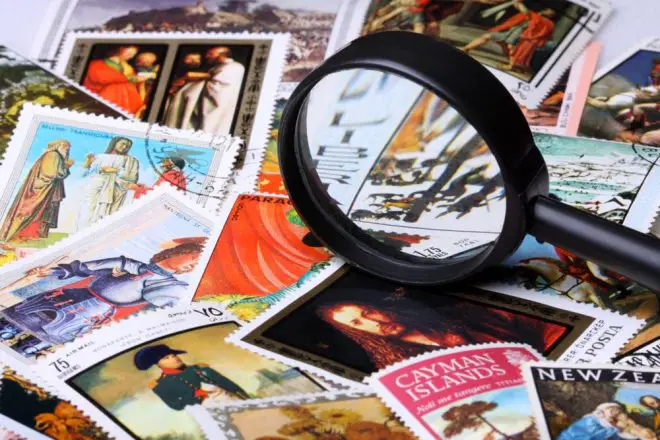 Preparing to Sell a Stamp Collection: There comes a time in every collector's life when they ask themselves whether it's time to sell their collection. If you're asking yourself how to sell a stamp collection, then you have come to the right place. Whether you're a die-hard stamp collector or someone who inherited an old collection, this guide will help you through the beginning steps of selling your collection.
How to Value a Stamp Collection
The first question that you always need to ask yourself when preparing to sell a stamp collection is, "what is my stamp collection worth?" The best way to determine the answer is to get your collection appraised. It's essential to take the time for a proper appraisal to help ensure you are not undercutting yourself. Simultaneously, you'll also want to avoid setting your price too high… which could thwart potential interest from buyers.
You might then ask yourself why you cannot just appraise your stamp collection independently. If you are not an experienced collector, researching on sites such as eBay is not always an accurate way to appraise a stamp collection. Depending on the sample size, there might not be enough data available. A professional appraiser will be able to leverage an extensive amount of knowledge & experience to give you a realistic price for your collection.
Even if you are an avid collector of stamps (and have a lot of existing knowledge about them), it still may be worthwhile to get them appraised by a neutral party. Biases are very real when judging personal items, and getting a second opinion is always a good idea. Appraisers have their finger on the industry pulse when it comes to the latest values of stamps. They typically have access to specialized equipment that can accurately date your stamps as needed. There is also the possibility of them being able to point you in the right direction for a quick and fair sale.
If you are concerned about the price of an appraisal, then another option is to go to a dealer. A dealer will appraise your collection for you free of charge. They also may be interested in buying your collection. If you are in a hurry to sell, this may be a good option, but keep in mind that dealers always need to leave themselves room to profit off of the eventual resale.
Where to Sell a Stamp Collection
The next question that you should ask yourself is, "where can I sell my stamp collection?".  As mentioned above, the most convenient option here is to sell it to a dealer. For some, it might be comforting to know that someone local will likely end up buying your collection. While you won't get top-dollar with this method, it's typically the path of least resistance. Either way, it's a good idea to do a google search on the dealers in your area and read some reviews to determine how reputable they are. You could also choose to get your collection independently appraised (before you take it to a dealer), which will provide leverage as far as knowing what an acceptable offer should look like. Knowledge is power!
Many people are reluctant to list their stamp collections on the internet nowadays, but with due diligence, this remains another top option to sell your collection. That said, please do not attempt to sell your stamp collection through a website that has not been appropriately vetted. Scams do occur. Similar to the process of locating a reputable stamp dealer, it is worth doing the proper homework. Although eBay is not a reliable way of determining the value of your collection, it can be an excellent place to sell it. Posting your collection on eBay, or a similar marketplace, is the best way to get your collection seen by a large number of buyers from around the world. Most other options will only attract a small number of interested parties.
Another possible option for selling a stamp collection is to target stamp collectors themselves. This is a great way to find potential buyers who will understand (and appreciate) the actual value of your collection. There are three suggested ways to do this:
Find a stamp magazine and list your collection in it – There are many different stamp magazines that offer this service, and they are read by members all over the world.
Find a stamp convention or fair near you – You are more likely to encounter non-collectors at these conventions, but it is still a good way to find people with genuine interest.
Sell your collection to collectors at an auction – But do keep in mind that this can come with many hidden fees.
Deciding Whether to Sell Your Stamp Collection
As previously mentioned, rushing into selling your collection is never a wise choice. There are many things to consider before making an informed decision. Once you have determined the value of your collection and found a place to sell it, you have to ask yourself the most crucial question, "am I ready to sell?".
Many collectors spend their entire lives dedicated to stamps, and letting go can be hard. Take a step back and consider whether it is the right time for you to sell. Think about whether your collection might appreciate or depreciate in the future, whether you want to stop collecting entirely, whether the money is worth it, and anything else that might be playing on your mind. Inherited collections can have a lot of sentimental value, so consider whether this justifiably outweighs the monetary value.
Once you've made your decision, feel free to visit us again at My Stamp Guide! We'll dive into more in-depth tips about the selling process and discuss how to get the most out of your collection.