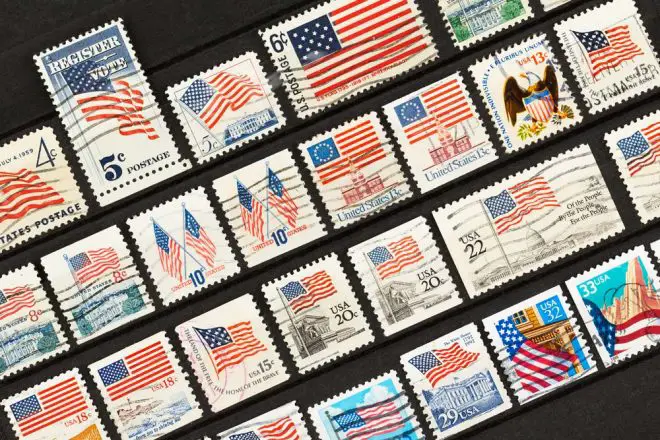 In 1840, the first postage stamp was introduced in Britain. At that time, nobody could have predicted that postage stamps would create one of the world's most fascinating collectors' hobbies. Nowadays, there are over five million individuals in the United States that participate in stamp collecting. If you are looking to become a philatelist, then you'll need to know some essential information before you start collecting.
Consider the Type of Stamp
When you first begin venturing into the world of stamp collecting, your first step will be to decide on the type of stamps you want to collect. You can select stamps that revolve around a particular country, niche/topic, quality (mint or used, for example)… the possibilities are endless. Of course, you aren't limited to our categories below; but it's usually a good idea to narrow down your focus out of the gates.
Country – You can always collect stamps from one country if you have an affiliation with a special place. If you decide to collect worldwide stamps, it'll be a fun venture, but a much more expansive one. You'll probably end up obtaining the most stamps if you choose this path because around 10,000 new stamps are issued yearly around the world.
Topic – You can select a topic or category, like flowers, Disney, sports, or celebrities. Picking a stamp topic is one of the most popular methods for stamp collecting today.
Quality (Mint or Used) – Most collectors decide on mint stamps or used stamps. If you want to collect mint stamps, then these are the stamps that haven't ever been used (making them rarer, and thus, more expensive). That said, It's definitely easier to collect used stamps, and many used stamps are still quite desirable.
Purchasing Your Stamps
Next, you'll need to consider where you will buy your stamps. There are several places (or ways) you can leverage in order to acquire stamps. We'll cover some of those options below:
Post Office – You can always purchase stamps for your collection directly at the post office. By going to the post office, you can ask questions about what stamps are commemorative or limited edition. You can also ask about stamps that fit your particular subject of interest, like animals or sports.
Family & Friends – You can also spread the word and ask your inner circle for some help when seeking out new stamps. Talk to your friends, relatives, and even local businesses and see if they'd be willing to save stamps for you. If you know people that live in different areas of America (or the world), that will significantly increase the reach of your stamp collection.
Dealer – Try the APS Dealer Directory to find a nearby stamp dealer. Enter your state or city to begin the search. Once you find a dealer, a great way to start your stamp collection would be to purchase stamp packets. Both hobby stores and stamp collector stores often sell stamp packets, which contain hundreds of used stamps. Buying some stamp packets is a great way to jump-start a new collection.
Club – Signing up with a nearby stamp club will give you plenty of opportunity in terms of finding stamps. You can talk to club members, seek advice, and secure plenty of tips from expert collectors. To find a stamp club, one popular resource is the APS Stamp Club Directory.
Shows/Exhibitions – Another excellent way to acquire stamps quickly is by attending a stamp show. If you can visit a stamp show, you'll locate plenty of hard-to-find stamps, and come in contact with a lot of expert collectors. If you aren't sure how to find a stamp show near you, the APS Calendar of Events should help you get started.
Pen Pal – One way to get some "free" stamps would be to sign up to become a pen pal. If you go this route, make sure you do enjoy writing and receiving letters, or else you'll likely burn out pretty quickly. You can find pen pal websites all over the Internet that will put you in contact with others who may very well share the same hobby.
Stamp Trading – Once you've set the foundation for a collection, and you start making connections with other stamp collectors, sort through your stamps and remove any doubles that you don't want. Then you can bring these stamps to trade with other collectors (for their duplicates – which is a win-win for both parties involved). Another option is you can visit your nearby hobby shop or stamp dealer and see if anyone there would be willing to trade.
Stamp Collecting Supplies
Now that you know some popular outlets to acquire stamps, the question is, what supplies will you need to keep your stamps in excellent condition? To preserve your stamps, you'll need some stamp collecting supplies, that typically includes the following:
Watermark Detector Fluid – Helps to bring out watermarks and patterns that are on the stamp.
Tongs – Will help you pick up and place your stamps so you can avoid damaging them.
Magnifying Glass –  Used to examine the condition of your stamps at close range.
Perforation Gauge – To keep track of any perforations on your stamp's edges.
For more information, check out our other post on How to Care for a Stamp Collection.
Removing Stamps Correctly from Envelopes
If you have decided to collect used stamps, then you'll need to know how to remove stamps from envelopes (correctly) to avoid damage. To successfully remove a stamp from an envelope, first cut the envelope to isolate the stamp, leaving some space around the sides. Once you've done that, soak the stamp with its face down for about twenty minutes in cold water. The stamp will eventually float free. Once it does, grab your tongs and place the stamp between some paper towels. Then, put a heavy book on your stamp, so it dries flat.
Stamp Collection Values
If you ever want to assess your collection's value, you'll need to purchase a stamp collecting price guide. In the United States, the most popular catalog to use is called the Standard Postage Stamp Catalogue. This catalog will help you get an estimate of what your stamps are worth. The main factors that affect the value of your stamps are rarity and condition.
For more information, check out our other post on How to Value a Stamp Collection.
Correctly Storing Stamps
Many stamp collectors use albums, stamp hinges, or stamp mounts to store their stamps. Stamp mounts work well since they are clear plastic holders that offer a nice layer of protection. Another excellent option is a transparent glassine envelope that can preserve your stamps from dust and pollutants in the air.
Should You Get Insurance?
If you discover that you've picked up a few rare stamps or your stamp collection becomes quite large, then you should consider the possibility of insurance to safeguard your investment. Several insurance companies offer policies that cover collectibles, and many provide all-risk coverage.