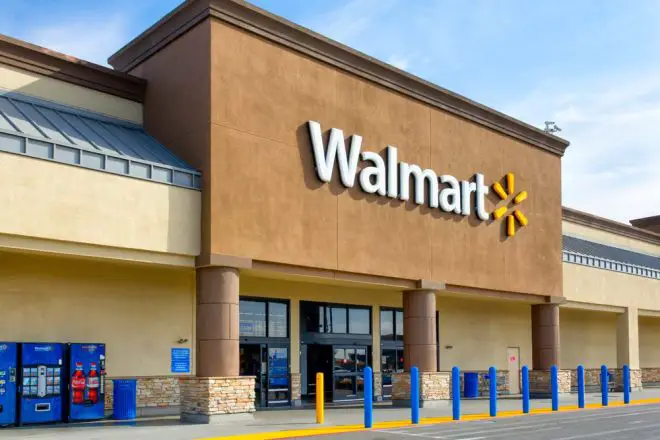 Have you ever needed to send out a postcard in a flash? Or mail a letter in a last-minute dash? One of the worst feelings is realizing that you have an urgent item to mail and don't have any stamps available. Since technology allows us to pay bills online and communicate with others instantly, many of us aren't always stocked up with the essentials for "snail mail" when we most need it. So the question is, where are you going to go to purchase your postage stamps? Nowadays, you can buy postage stamps from several retail stores. However, hands-down, the most popular and accessible store to buy stamps is Walmart.
Does Walmart Sell Postage Stamps?
Walmart makes purchasing stamps very convenient since they are almost always open. Even if it's 3 AM and you need a postage stamp, you can typically get the stamps you need by going to the nearest Walmart. In most stores, Walmart has stamps at their Walmart MoneyCenter. If there is no MoneyCenter, look for the customer service area in the Walmart store. Most Walmart stores carry books of twenty stamps, and some have even more options available. However, you can also purchase stamps at Walmart Online, where you'll find a plethora of postage types and a bevy of quantities to choose from.


Buying Stamps at Walmart
Across the United States, you'll find Walmart stores (in almost every city and town you pass through). This convenience factor is exactly what makes Walmart such an excellent choice for stamps. Since many Walmarts are open 24/7, you can purchase a book of stamps from them whenever you need one. Plus, it's not difficult to find a local Walmart since most cities have multiple outlets nowadays.
Walmart sells just about anything and everything, and stamps are no exception. They also have postal accessories for your packaging and mailing needs, like pens, envelopes, and bubble wrap. That makes Walmart an excellent one-stop-shop option when it comes to postage.
To purchase a book of stamps at Walmart, all you need to do is head over to your local Walmart and walk-in. Sometimes you can purchase stamps at the various registers in the store, yet much of that availability will depend on the individual store's policies. We recommend that you shop as you usually would and pick up anything else you might need at the store first before you head to the register. Then you can ask for the stamps as you check out at the register.
If you're at a Walmart Supercenter, then you need to go to the MoneyCenter area, which should be near the front part of the store. In the MoneyCenter, you can cash checks and purchase money orders. Chances are, you've probably used a Walmart MoneyCenter in the past. If there is no MoneyCenter, then you'd need to go to the customer service desk, which you'll also find towards the store's front area, to purchase your stamps.
Keep in mind that the MoneyCenter and customer service desks at most Walmart stores don't provide continuous access and do run on their own hours. Most of them operate from 8 AM until 10 PM. However, different Walmart stores will list different hours, so you'll need to call your local Walmart store to determine the hours of operation.
When you buy your stamps at the MoneyCenter or customer service desk at Walmart, you can use almost any form of payment. Walmart accepts cash, debit cards, and credit cards as payment for your stamps.
What Will the Stamps at Walmart Cost?
Walmart charges the standard US postal rates for its stamps. The cost of the stamps you purchase will depend on the type of stamp you need, and how many stamps you are purchasing. For example, forever stamps cost 58 cents each (per the August 29, 2021 price increase), which is the same price as first-class mail. So, if you are buying a book of stamps, which would include twenty stamps, you'd pay $11.60.
The price of your letter/package will depend on how much your item weighs and the destination. Once you know that, you can purchase the correct number of stamps. To avoid overpaying for postage (or underpaying by mistake), we encourage you always to double-check to ensure you know the exact amount of postage for your package.
Walmart makes it simple to purchase a book of forever stamps. Remember, forever stamps have no denomination and can be used to mail anything under a certain weight. When you are buying forever stamps, the price of the book depends on the type of stamp you are getting, and how many of the stamps you are purchasing.
Stamps at Walmart Online
You can also purchase stamps at Walmart Online. Here, you'll find an even more extensive selection of stamps. Walmart Online makes it easy for you to pick out the stamps you need and have them directly shipped to your door within a few days.
At Walmart Online, you can purchase a bevy of different types of stamps. For instance, you can select postcard stamps, souvenir stamps, or a coil featuring one hundred stamps. Walmart doesn't directly sell (in retail stores) all the stamps available on its online store. Third-party sellers offer many of the stamps sold at Walmart Online.
Walmart Online will let you pay for your stamps using a debit card, credit card, Amex Express Checkout, PayPal, or Chase Pay. When you checkout, you'll need to pay for not only the price of your stamps, but also the cost of having them shipped to you. So, while buying stamps at Walmart Online makes things easy and convenient, you will likely be paying a little more for your stamps because to cover the shipping costs.
Finding a Walmart Store
Since Walmart is such a great place to go to for stamps, you're probably wondering where your nearest Walmart is located. Luckily, Walmart has created an excellent tool for that. By heading over to Walmart's website, you'll see its store locator. You'll need to enter your zip code and city information so that the tool can help locate the store that is nearest to you.
After that, a list should come up demonstrating the stores that are closest to you. Pick the one that you feel is the easiest to get to and head down to that store for your stamps. It's that simple!