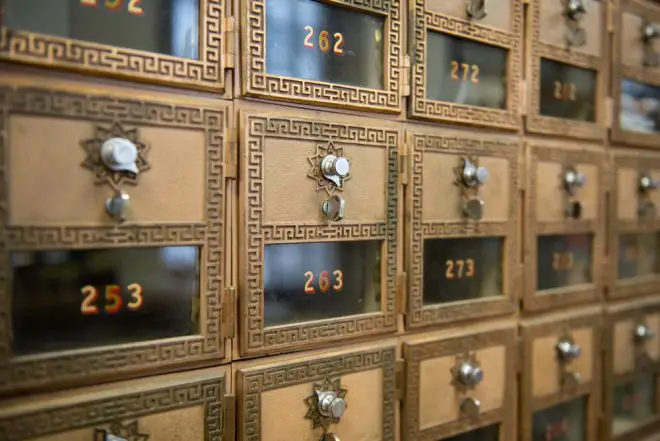 Millions of people around the world rely on PO boxes for their postage needs every day. However, despite their prevalence, there are plenty of others who haven't heard of them yet (or know how they work). If you are someone who sends and receives a lot of mail, continue reading as PO boxes might just save you a lot of time and stress!
What is a PO Box?
A PO box is, quite simply, a box at a post office where mail is delivered. At most post offices you will find a wall full of them. They each have a specific number dedicated to a particular person or company. This person or company can then have their mail sent to the PO box to be stored until pickup.
What Does PO Box Mean?
PO box is a shortened version of the phrase "post office box". As one could imagine, this is because they are boxes that are located at a post office, as opposed to a post box at someone's house or workplace. PO boxes are essential in many countries, as not all postal systems work the same way as they do in the United States. For example, in some countries there is no door to door mail service whatsoever, so you have to go to the post office to pick up your mail. That said, PO boxes aren't just for countries that don't offer door to door mail service. There are many reasons why having a PO Box in the United States can be helpful, as we will discuss in this article.
How Do PO Boxes Work?
The majority of PO Boxes are rented out by post offices, rather than owned by any one person. They can be used both by people and businesses. If you are planning on getting one for your business, then you may need to consider the size of the PO box with regard to the size of the mail that you may be receiving. PO Boxes can be rather small, so they may not always be ideal for a business, but they can be of great help for personal postage in particular. 
There are two main options to consider when looking to rent a PO box:
Public PO Boxes –

These are located at government-run post offices. Anyone sending mail to a PO Box will use the address of the post office along with the PO Box number (#42134, for example). Generally, at these types of PO boxes, you will have a key to your box and will be able to access it during regular post office hours (or longer depending on when the lobby is open).  

Private PO Boxes – Private postal companies own these

. The main difference here is that you'll receive a standard street address (which can look more professional for businesses in particular). With privately-owned PO boxes, the downside is there is the possibility of not having complete independent access. When a PO Box is privately owned and rented, it is more likely that the boxes will be located behind a counter. You will have to present your ID to the post office worker, and they will get your mail from the box for you. 
Where are PO Boxes Located? 
There are many different post office companies across the United States. Most of these post offices will have a PO box system in place. A great way to find your nearest one is to put your postcode into this easy-to-use website: https://mailboxlocate.com/
How Much Does a PO Box Cost?
PO box prices vary across the United States. There used to be a price guide that governed PO boxes and ensured that they all stayed the same price. Now, however, they can vary from state to state and even city to city. The cost of your PO box also depends on three main things.
Size –

The size PO Box that you are after is the main factor in determining the price. The more space you need for your mail, the more you will need to pay. 

Location –

PO boxes located in urban areas will usually cost more to rent out than those found in rural areas. Some residents in the United States may also be offered free or discounted PO boxes if their home address does not have a post box or mail cannot be delivered to their home address. 

Duration

–

The length of time that you decide to rent your PO box will go a long way to determining how much it will cost you. In most cases, you will have the option of renting your PO box for either the month or the year. Naturally, the longer you intend to rent, the more it will cost. Post offices can also be known to give discounted prices to those who sign on for a longer lease.
Why Should You Get a PO Box? 
There are a large number of reasons that you might consider getting a PO box. There are a lot of benefits to having a PO box, with the only real downside being that you have to leave your house to get your mail.
If your home or business doesn't have a post box or mailing address, then a PO Box is a good option for you. Many Americans have their mail sent to work, so getting a PO box can relieve you of that stress. A lot of businesses don't have dedicated mailing addresses either (often because they are located in an office building with numerous companies). Even if they do have a mailing address, these types of buildings can cause a lot of headaches as postmen may have difficulties finding the exact location. This is how packages end up getting lost or returned to their sender. With a PO box, you can be confident that your mail will get to the right place.
Privacy is also a big concern for many people when considering getting a PO box. If you are getting mail sent to your workplace or a shared residence, it can often fall victim to prying eyes. With a PO box, you are the one with the key, and you can rest assured that your roommates won't be going through your mail.
Mail theft is, unfortunately, a prevailing reality in the United States and all over the world. Gifts, letters, online purchases, and so much more that are left unattended in letterboxes, or on doorsteps, are often subject to theft. A PO box is generally far more secure than having your mail delivered to your home or business. It will save you from having to be home for a delivery, and provide plenty of flexibility for pickup.
How to Get a PO Box
If you have read through this article and decided that you would like to rent a PO box, then there's good news. It's as easy as one, two, three!
Find a PO box near you –

You can do this by using the website linked previously in this article, by doing a quick google search, or by popping into your local post office.

Choose your box number –

Some places will allow you to reserve a box online, but others will expect you to do this on site.

Present your ID –

Visit the location of choice, fill out some forms, and present your ID. Generally, you will be expected to show two different types of ID.
Once you've completed these steps, you're ready to start paying for your PO box and receiving mail. Happy online shopping!